Comoros National Plant Genetic Resources Centre
The Union of The Comoros
The Union of Comoros comprise of three islands, namely Grande-Comore (Ngadzija), Anjouan, and Mohéli, all occupying a total area of 1,660 km². The coastal zone of Comoros lies under elevation of 0-400 m ASL where vanilla, ylang-ylang and cloves are grown. Food crops including banana, cassava, breadfruit, taro, yams, sweet potatoes and vegetables (tomatoes, potatoes, cabbage, carrot, cucumber, salads, peppers, eggplants) are grown on higher altitude. Fruits including mango, citrus, lychee, papaya, coconut, avocado, soursop, and cashew are also grown.
National Plant Genetic Resources Committee (NPGRCom)
As is standard for all Natinal Plant Genetic Resources Centres (NPGRCs) to have an NPGRCom as an organ that advices and provides technical and policy guidance to the operations of the conservation work through NPGRC, the Comoros is in the process to establish one that will involve the government (Ministries involved in conservation – Agriculture, Environment, Planning; University/Herbarium; NGOs; Focal point for Nagoya Protocol and ITPGRFA, farmers, etc. The Committee will preferably be chaired by INRAPE and the Chairperson will be the Board Member of SPGRC.
Seed Genebank
A standard seed bank would require enough space to host and analyze seed collected in the field, (process it, i.e. clean and free it from pests), after which, tests for germination and viability will be done. Seed is then dried to recommended water content, packed and moved into the genebank for storage.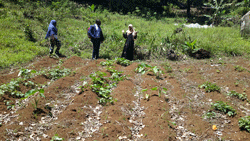 Consultations with Director General of the National Institute of Research in Agriculture and Fisheries (INRAPE) with regard to processing and storage space for seeds led to proposal for establishment of the seed genebank in the premises of the INRAPE Head Offices where the current in-vitro laboratory is hosted; in anticipation, the later will be moved to another premises. However, and in agreement with the two Parties, it was found that the in-vitro building is heavily dilapidated with roof and walls that are heavily humidified will be too costly to renovate.
INRAPE is therefore is in the process of identifying and committing a big room for seed genebank within the INRAPE Administration building.
Field Genebank(s)
Plants that are of food and nutrition importance in the Comoros include banana, cassava, and sweet potato. These can effectively be conserved in field genebanks, some of which are established through collaborative efforts by INRAPE and the government-funded and coordinated, Rural Centres for Economic Development (CRDE).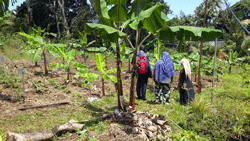 After visiting the Moueni and Simboussa Centres in Mboude and Mbadzini East Regions respectively, parties agreed that besides having a small field genebank near INRAPE offices in Moroni, a national field genebank will be established in Simboussa Centre, and its collections duplicated to Moueni Centre for safety purposes. Both centres have CRDE staff who can do the day-to-day management, have good fertile soils, have water sources and reserve tanks that though old, may need some renovations to be put back in use.
Field genebanks will be fenced to ensure isolation and safety from stealing and grazing by animals, among others. It was encouraged that besides food plants, collectors should strive to also collect any other vegetative plants some of which have economic and/or health/medicinal importance and be well documented to include capture of its associated indigenous knowledge. The vegetative plants in the field genebanks will be classified in groups of food crops, industrial/perfumery, medicinal, etc.
In another note, INRAPE was encouraged to lobby for its visibility in terms of conservation. For example, in order to protect plants from extinction when huge industrial projects like dam, housing or road/airport infrastructures are erected, INRAPE should be involved in undertaking Environmental Impact Assessments (EIA) so that their concerns and strategic actions can be taken into account to avert destruction and loss.
Genebank Staffing and Capacity Building
The Director General of INRAPE being the entry point and contact for all matters relating to conservation in the Comoros, will appoint who to represents the country on all collaborative works that relate to conservation work, including attendance to meetings and capacity building. Thus far, Dr Mze Issa has been appointed as the focal person on all matters related to SPGRC network issues.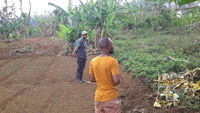 Two INRAPE staff - Ms Charmila Mohamed and Ms Oummu Kulthum Mohamed are also appointed as genebank staff responsible for collection and general conservation tasks ex-situ and in-situ. In addition, Ms Hachimia Said Hassani (currently with Germination project) is the focal point for genebank database management.
The SPGRC Head committed that SPGRC staff from respective technical departments will go to the Comoros to conduct training of local staff on ex-situ and in-situ conservation as well as on information and communications management, especially database management.
Crop Descriptors
The staff at INRAPE have been encouraged to use Bioversity International (formerly IPGRI) crop descriptors to morphologically, characterize collections. The INRAPE staff also use "guidelines for developing crop descriptors" that assist in developing crop descriptors for endemic crops of the Comoros such as perfume tree, ylang-ylang (Cananga odorata), etc.
Equipment/Facilities
It is anticipated that basic equipment and facilities for the seed bank will be provided through the FAO-TCP project. These will include equipment for cleaning and isolating pests, germination tests, drying, determination of water content, packaging and storage (freezers, etc.).
Collaborators
(a) PREFER Project
The IFAD-funded Family Farming Productivity and Resilience Support Project (PREFER), collaborates with IITA's Smallholder Agriculture Adaptation Programme (ASAP) Fund that aims at assisting 35,000 vulnerable smallholder farmers improve local food production and reduce reliance on food imports.
PREFER aims to promote the development of production of local foods such as bananas, cassava and vegetables. This includes production for the domestic market while generating surpluses to increase incomes for smallholder producers. It will also strengthen access to rural financial services to enable smallholder farmers to invest in equipment and other infrastructure improvements for production and processing, in addition to addressing quality issues that will help them get better prices for their products.
The project's focus is on propagation of vegetative plant materials. Mr Notabataine mentioned that even though PREFER project plans to import rootstocks directly from Nigeria, research through INRAPE insists on first testing such materials for suitability, before release for adoption by farmers. This, he said, will avoid uncontrolled introduction of such diseases like black sigatoka in banana, cassava mosaic disease, and brown streak virus in cassava.
(b) Rural Centre for Economic Development (CRDE), Maoueni Village, Mboude Region
In the north of Grand Comoro (Ngadzija) at Maoueni Village in Mboude Region is a potential for collaborator in conservation of the government-run Rural Centre for Economic Development that collaborates with INRAPE.
The Centre's objectives and responsibilities include supporting farmers on issues of technical advice, finances and agricultural inputs (seeds, propagation materials, etc.).
The Maoueni Centre supports farmers from 17 villages that mostly cultivate carrots, cabbage, salad, sweet potato, banana, cassava and fruits (mango, oranges, lychees, etc.). As of now, the Centre is in control of 25 hectares of which, 7 hectares are under cultivation. The remaining hectarage remains property of the government but can be leased to farmers seasonally.
The Centre has the will and commitment to participate in conservation efforts that the would-be NPGRC will implement, including hosting of a field genebank. The fields can be irrigated because fields are near source of water that was used by a defunct mineral water processing/packaging company and storage tanks are available though they may need some renovations and construction of pipe network.
(c) Rural Centre for Economic Development (CRDE), Simboussa Village, Mbadzini East Region
A Rural Centre for Economic Development in Simboussa Village in the Mbadzini Region, South of Grand Comoro (Ngadzija) Island has 34 hectares with 9 hectares under crop, while the remainder land which is government-owned is under fallow but is available for lease to desiring farmers. It is fertile, can be irrigated because water tanks are in vicinity but may need some renovations and piping system installed.
The Centre technically and materially (seed, propagation materials) supports farmers from 17 communities, a service provided through its eight technicians, two of whom are specialized in animal production and the remaining six, in crop production. Training to farmers is usually conducted weekly, and may be complimented by collaborating NGO, which also provide training to farmers.
Staff
No.

Name

Designation

Contacts

1.

Dr Hamza A. Azali

Director General, INRAPE

This email address is being protected from spambots. You need JavaScript enabled to view it.

Tel: +269 3414026

2.

Ms Farahti Mohamed Rachid

Deputy Director General, INRAPE

This email address is being protected from spambots. You need JavaScript enabled to view it.

3.

Ms Oummu Kulthum Mohamed

Research Engineer, INRAPE

This email address is being protected from spambots. You need JavaScript enabled to view it.

5.

Ms Charmila Mohamed

Cassava Coordinator, INRAPE

This email address is being protected from spambots. You need JavaScript enabled to view it.

Tel: +269 367 1136

6.

Soilihi Abdoulkarim

Biotechnology/Safety Engineer

This email address is being protected from spambots. You need JavaScript enabled to view it.

Tel: +269 371 0845/440 2544

7.

Ms Hachimia Said Hassani

Database Manager, Germination Project

This email address is being protected from spambots. You need JavaScript enabled to view it.

+269 357 5603