D.R. Congo National Plant Genetic Resources Centre
Introduction
Plant genetic resources remain the basic for agriculture development in the African countries, particularly in the Democratic Republic
of Congo (DRC) whose National Plant Genetic Resources is cross-cutting programme that deals with all species and thematic programs in DR Congo.
Genetic resources are conserved in-situ and ex-situ with species collected and/or developed by thematic programs. The NPGRC of DR Congo is tasked with collecting germplasm materials and ensuring short medium medium to support research work of thematic programs.
Whilst the genotypes collected or developed are annual and perennial crops, the major bottleneck remains on conservation of these genetic resources and availability of adequate facilities and equipment, as well as finances.
National Plant Genetic Resources Centre (NPGRC)
The National Agricultural Research Institute (INERA) is the mother institute of the NPGRC. All INERA's thematic Research Programmes (food crops, industrial crops and forestry) form the backbone of the activities of NPGRC.
INERA has research centres widely distributed across the six agro-ecological zones of the country, with principal centres and stations being:
Eastern DR Congo:

Mulungu and Nioka centres, N'Dihira and Kibangula station

s

North-Eastern DR Congo:

Boketa and Bongabo stations

North-Eastern DR Congo:

Bambesa and Yaekama

stations

Western DR Congo:

M'Vuazi centre; Gimbi, Luki, Kondo and Kiyaka

stations

Central DR Congo:

Yangambi and Gandajika

centres;

Mukumari station

Southern DR Congo:

Kipopo and Kaniama

stations
These are equally at the disposal for research and development activities by the NPGRC.
Staffing
The lean NPGRC staffing is composed of: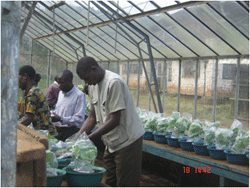 At INERA's headquarters:

The Acting Scientific Director – Mr Lunze Lubaga Daniel), Mr Lumbe Ramazani – Head of Division Management of Genetic Resources; and Program Chiefs at respective research programmes across the country, mainly, PGR programmes.

In the centres and stations
National Plant Genetic Resources Committee (NPGRCom)
The NPGRCom was institutionalized during the stakeholders' meeting held at Kinshasa on 20-21 November 2008. The Committee members comprise of approved personnel from Ministries, Universities and other Institutions involved in genetic resources activities.
The current Committee has been composed of the members of the three Ministries:
Ministry of Agriculture (Chairperson)

Ministry of Research (Implementation by INERA)

Ministry of Environment and Tourism, and others: Universities, private (collaboration…)
Equipment, Facilities, Supplies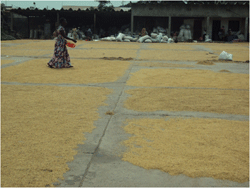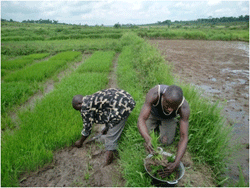 The DR Congo could not come on board when the activities of SPGRC started as a project funded by the Nordic countries and joined the network late following the political and war situation.
DR Congo to date has still not received any kind equipment and facilities support given the fact that the project ended in 2012. At the moment, SPGRC together with DR Congo are engaged in intensive resource mobilization that will see DRC equipped and well faciolitated to conduct plant genetic resources conservation and utilization activities.
Challenges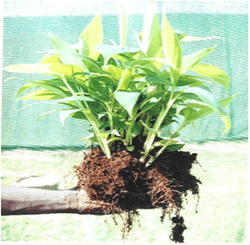 Like in many other Member States, DR Congo is challenged with insufficient funding, poor communication, and transportation. This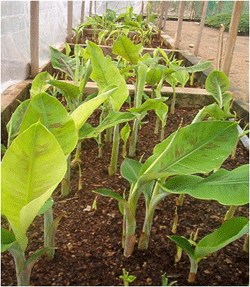 pre-disposes the NPGRC to unreliable Internet linkage between itself and research centres/stations and the INERA head offices in Kinshasa.
Being new, the Genebank needs senior specialized staff, adequate infrastructures and installed documentation and information facilities and systems.
As of now, the NPGRC has secured an office, a meeting room and a store at the headquarters in Kinshasa. As there was not a specific building available and having no funds to build a new block in Kinshasa, NPGRC is located at the nearest research station, Mvuazi where it is planned to have a more permanent Genebank but with coordination remaining to be from INERA headquarter in Kinshasa.
Additional Information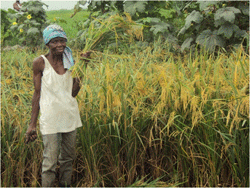 According to financial and war situation that DRC pass through, many researchers had to leave the field of PGR
and others ageing. The DRC would wish to bring up to date his researchers' staff in the field of PGR by training young researchers who need to develop in PGR programme.
The official language in DR Congo is French which handicaps use of English language (which is use as a second international language). Then DRC would wish to train the new staff, with English language knowledge to Masters and PhD levels.
In the 23 inactive (abandoned) research stations, there are active (and passive) collections that are not evaluated and have been neglected.
In non functional research centres and stations, there arose the need to evaluate and to transfer the germplasm materials to safer storage places such that they can effectively be used for increasing food producing and industrials (commercial plants (palm oil, cotton, coffee, tea, cocoa, rubber, quinine, medicinal plant, jatropha, etc) purposes.
Cell: +243 852 756 628 or +243 812 927 975

Email:

This email address is being protected from spambots. You need JavaScript enabled to view it.

or

This email address is being protected from spambots. You need JavaScript enabled to view it.
Mr Ramazani, Lumbe
Division of Management of Genetic Materials
National Institute for Study & Agricultural Research (INERA)
Email:

This email address is being protected from spambots. You need JavaScript enabled to view it.