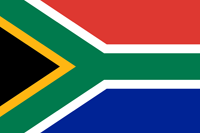 South Africa National Plant Genetic Resources Centre
Background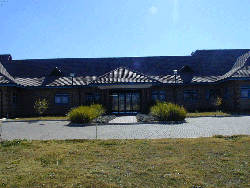 Over the last few decades there has been increasing concern about the loss of diversity due to genetic erosion, which in some instances has led to serious epidemics. The fact that germplasm loss is irreplaceable, the conservation of these genetic resources has moved to the forefront globally. Subsequently, South Africa, through the National Department of Agriculture, became involved in discussions on Plant Genetic Resources and related matters during the late 1980's and has since ratified the Convention on Biological Diversity (CBD) and is in the process of ratifying the Food and Agriculture Organisation of the United Nations (FAO) International Treaty on Plant Genetic Resources for Food and Agriculture. South Africa became a member of the SADC Plant Genetic Resources Centre (SPGRC) in 1995.
The National Gene Bank of the Directorate Genetic Resources, acts as co-ordinator for all activities related to the conservation and sustainable use of Plant Genetic Resources for Food and Agriculture in South Africa, which include seed collecting, seed multiplication characterization/evaluation/rejuvenation, documentation and gene bank management.
The new Genetic Resources building of the National Department of Agriculture (DoA) was completed in April 1998 and houses the Official Seed Testing Station and the National Gene Bank. This new facility is situated on the Roodeplaat farm of the National Department of Agriculture approximately 35 Km north of Pretoria.


Objectives
The collection of plant genetic resources for food and agriculture from all ecological zones;
The characterization, evaluation, multiplication and regeneration of all indigenous and adapted exotic plant genetic resources (mandate species);
The safe storage of indigenous and adapted plant genetic resources in a national base and active collection;
Conservation of species with recalcitrant seeds in field gene banks, tissue culture or cryo-preservation;
Increasing the availability of indigenous and adapted plant genetic resources to farmers, plant breeders and plant researchers for the further improvement thereof;
To work in close collaboration with the agricultural extension and national plant breeding institutions for the effective utilization of plant genetic resources;
Documentation of all plant genetic resources in the base and active collections;
Regulate access to Plant Genetic Resources for Food and Agriculture.
Activities

Material

Collecting
The conservation of Plant Genetic Resources begins with collecting and the success of this will depend on the composition of a good collection team, planning and timing. Collections are carried out in collaboration with local extension workers and with National Botanical Institute experts, where necessary. The aim of collecting is to conserve the complete genetic diversity contained within a species.
The total number of landrace accessions at the NPGRC as of 2008, amount to 5,800. These include accessions that are continually collected and vegetatively propagated. Unfortunately, due to the departure of the former Curator at the end of 2008, some newly collected samples are yet to be registered.
A first batch of seed samples amounting to 337, which forms part of the germlasm repatriation programme, were received from the Kew Millenium Seed Bank in the United Kingdom and are being verified and registered on SDIS.
Multiplication, Regeneration and Characterisation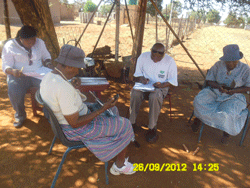 It is seldom possible to collect adequate quantities of seed for storage, especially when collecting from farmers' stores. It is then necessary to multiply these seeds in order to obtain the desired quantities for storage. Because of the limited space and resources, only the highest quality of seeds should be stored. It is recommended by IPGRI that only seeds with germination percentages exceeding 85% should be banked. Another reason for this is to ensure that the genetic integrity of the accession is maintained.

Therefore, accessions are tested regularly and regenerated if the germination has fallen below 85%. When accessions are planted out, basic morphological characterisation is done routinely. This is performed to increase the value of the accessions for use by plant breeders.
On-farm (in-situ) Conservation
On-farm conservation activities have thus far been implemented in the Eastern Cape Province in the Sterkpruit Community and in the Limpopo Province in the Vhembe district. The aims and objectives are as follows: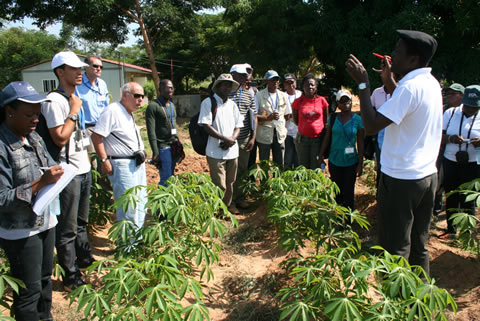 To promote effective management and maintenance of indigenous and traditional PGR, on-farm, in home gardens or in the wild;
To promote the understanding of indigenous knowledge and information on the value and use of indigenous and traditional PGR;
To promote the broader usage of landraces (local PGR) at various levels;
To incorporate farmers into an NPGRC system and empower them to have control and easy access over crop genetic resources.
On-farm activities also involves restoration of landrace accessions to smal-scale farmers. For example, in 2007/08, a total of 20 landrace accessions were restored to small-scale farmers in the country.


Storage
After drying (moisture content of 3 - 7 %) and cleaning, seeds are stored in an active collection at 4°C and in a base collection at -18°C. A duplicate sample is sent to the SADC Plant Genetic Resources Centre (SPGRC) in Zambia for safekeeping. Species with recalcitrant seeds that do not tolerate a reduction in moisture content are "stored" in field gene banks and tissue culture. The NPGRC is in the process of establishing a cryo-preservation unit for the duplication of all accessions conserved in field gene banks.
| | |
| --- | --- |
| National Active Collection, 4°C | National Base Collection, -18°C |
Distribution
Accessions held in the active collection are stored in small distribution bags, ready for distribution to researchers and plant breeders upon request. Seeds are only distributed to recipients upon the completion of a standard Material Transfer Agreement (MTA).

Organisation

National Plant Genetic Resources Committee (NPGRCom)
The present NPGRCom, according to GRFA policy is in development, will be replaced by a new GRFA committee that will include Animal GRFA.
The present committee consists of the following members:
Normal 0 false false false MicrosoftInternetExplorer4
| | | |
| --- | --- | --- |
| Name | Authority | Capacity |
| Dr Noluthando N. Nkoana | Dept. of Agriculture, Food & Fisheries | Chairperson |
| Mr S McKean | KZN Wildlife | Member |
| Dr F D Dakora | Dept. of Botany, UCT | Member |
| Mr T Bredenkamp | Agricultural Research Council | Member |
| Prof A Fossey | Dept. of Genetics, Univ. of PMB | Member |
| Ms C V Memela | Private sector | Member |
| Mr M M Wolfson | National Botanical Institute | Member |
| Me P Briston | Dept. of Environmental Affairs & Tourism | Member |
| Mr D E N Mabogo | University of Venda | Member |
| Dr Tom Vorster | Dept. of Water Affairs & Forestry - Indigenous Forest Section | Member |
| Mr Walter Loubster | South African National Seed Organisation (SANSOR) | Member |
| Mr S G Asante | NW Dept. of Agriculture, Conservation and Environment | Member |
| Mr K B Dongo | Mpumalanga Dept. of Agriculture, Conservation and Environment | Member |
| Mr H Gerber | Northern Cape Dept. of Agric., Land Reform, Conservation & Environment | Member |
| Mr C Manyaga | Gauteng Dept. of Agric., Conservation, Environmental Affairs | Member |
| Mr R R Ramugondo | Limpopo Dept. of Agriculture | Member |
| Dr A Sanewe/Dr L E Metho | KZN Dept. of Agric. & Environmental Affairs | Member |
| Dr I M Trautmann | Western Cape Dept. of Agriculture | Member |
| Mr Schalk van den Merwe | Free State Dept. of Agriculture | Member |
| Vacant | Eastern Cape | Member |
| Prof P Berjak | Dept. of Biology, UKZN | Consultant |
| Dr D Mycock | Dept. of Botany, University of Witwatersrand | Consultant |
Normal 0 false false false MicrosoftInternetExplorer4
Staff
The personnel of the NPGRC consist of the following positions:
Normal 0 false false false MicrosoftInternetExplorer4
| | |
| --- | --- |
| Ms Mpolokeng Mokoena | Genebank Manager |
| Mr Thabo Tjikana | Curator |
| Ms B. Moeaha | Ex-situ Officer |
| Ms Tshidi Manamela | Biotechnology Officer |
| Lehlogonolo Abner Matewlele | In-situ Officer |
| Ms Nkat Lettie Maluleke | Collection Officer |
| Mr P. Moila | Senior genebank Officer |
| Mr G. Phora | Ex-situ Technician |
---
Contacts
RSA Plant Genetic Resources Centre
Private Bag X973, PRETORIA 0001, South Africa
Tel: 27 12 808 5387/9, Fax: 27 12 808 5383
Email: This email address is being protected from spambots. You need JavaScript enabled to view it.; This email address is being protected from spambots. You need JavaScript enabled to view it.